Flirt4Free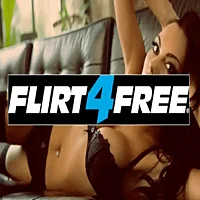 Do you want to flirt 4 free? Do you like to see endless streams of girls doing filthy stuff on camera? Do you want to see it for free? Then Flirt4 Free is the website for you. Yeah, you will have to spend some money if you want to get more than a visual taste of trim. After all, this isn't an amateur site like Chaturbate. But this professional porn site provides some of the highest quality live sex shows you'll ever find.
Off the Charts Live Ladies
The first thing you need to know about Flirt4Free.com is the premium talent. You'll find it difficult to find better cam models elsewhere. With gorgeous girls from all over the world, who are young to old, have tiny titties or mammoth mammaries and everything in between, and will do all kinds of kinky shit for a few shekels, I think you'll agree.This is probably because Flirt4Free.com is one of the oldest cam sites on the net way back in the day of dial-up. Yeah, it's that old. Anyway, the brave porn pioneers built up this website and filled it with some of the loveliest ladies on earth.
Flirt4Free nicely lists the models by the category of the filth fucking stuff they love to do for you. On top of that, if you find a model you like you can check when they'll be online throughout the week. Plus, if you want to know who the newest talent is and what their stats are, just check the 'New Model' tab.
Specialty Sections and Sales
As I talked about earlier, Flirt4Free.com has one of my favorite features in a smut site: super veiny vaginas. Nah, just kidding. The other 'v' word – tons and tons of variety both in terms of performers and website specials. New promos are up all the time for every season and to spice F4F's content up. For instance, during autumn they've got a sweet Halloween-inspired deal going.No, seriously, check out the promo trailer, especially if you're into girls wearing slutty costumes. It's awesome.
Speaking of sexy girls in strange garb, besides the main categories, they've got a whole special sub-section section for models who specialize in BDSM and other kinky shit. So all you fetish freaks out there have something to look forward to.
Of course, if you look at the categories section or the fetish sub-site, a lot of the talent specializes in certain sexy performances. However, from what I've seen most of the girls don't have a ton of hard nos.
In addition to girls, F4F also has two other sections for male models and trans, too, if you're into that.
Free and VIP Account Access
Like the domain suggests, you can creep in the cyber shadows and see all kinds of beautiful girls in (nearly) nothing flirting with you. Without an account at all, you can check out all of the public streams, profile information, and see the schedules of performers for free.But this can seem like a bit of a tease without the ability to really interact with the performers. With a free basic account, you get your own anonymous screen name, a customizable profile page, a way to save your favorite models, and an archive for vids and pics. On top of that, you can chat with the models using your screen name, and enter a 1-on-1 private show of multi-chat show.
Once in a private show starts you can chat away with the model about any topic and direct the action. That's right, you're in the almost literal porn director's chair and get to call the shots on what kind of sexy stream you want to see. Performers determine the amount of money that they charge per minute, but from what I can tell the average seems to be 40 credits a minute for multi-chat private shows, and 60 credits a minute for 1-on-1 shows.
So you have an idea of how far a credit goes, 90 credits cost $10. So be careful how much time you spent online in private chats or you're going to end up pissing away pennies literally by the second.
Pro-tip, currently, F4F is offering 120 credits for free with a basic account sign up. That's minutes of private chatting with some of the hottest models for no charge. All you need to do, once your account is set up enter your payment information (don't worry you won't be billed for free credits) and you're good to go.
But With VIP It Gets Better
For one, you get access to thousands of hours of archived promo videos the performers have put on or past private shows which they've saved on their channels. In the course of a week, you can get access to 1,400 videos, plus an additional three free videos of your choice valued at 120 credits or lower every month. And with all of the talent from around the world to choose from, you're going to be spoiled for choice.Along with that, VIPs get discounts on video purchases and show passes, can send and receive pics in private chats live, and even get 'special treatment' during shows. Plus, VIPs get twice the amount of free credits compared to premium accounts for referring other customers and getting them to sign up to F4F.
Just be sure that when you do sign up to use your real email account. Don't worry closet wankers, Flirt4Free keeps all of your account information anonymous, and the email account you use to sign up with is only used to verify your account and send you occasional updates.
Speaking of updates, while F4F doesn't spam you, they will keep you up-to-date on the latest news on the site. If you want to know when your favorite performer is going to be on and you need a reminder, or want to know if they spontaneously login, you can configure an email alert set up super easy.
A really cool think about this site, which I don't think I've ever seen on any other cam site, is the replay feature on private shows. If you spend a little coin on a private show, no matter how long or short, you have 24-hours to re-watch the recorded stream with a free account.
To make stuff even better, with a VIP account, you can watch past private shows at any time for FREE. So, if you want to invest in some elite membership perks, you can feel the magic all over again.
Stay Up-to-Date with F4F's Blog
Flirt4Free really seems to like their customers…or at least their money, the greedy fuckers. Unlike every cam site I've seen and most porn sites, they've got a neat blog section, too. The stuff there isn't super exciting, but it is a good way to check out new developments on the site and live (as in real life) F4F events happening around the world.
What About the Site's Setup
If it isn't already obvious, this site's design is pretty good. Navigation is pretty great, though sometimes you might run into a few bugs occasionally. The biggest one is a tab labeled 'Dating' on the homepage menu, but every time I click on it a tab seems to open and immediately closes. I'm assuming it's some kind of feature they used to have where you could go on virtual "dates" with the performers or something, but I'm not sure.The other thing about which could use some polish are load times. Typically, the streamed video and the live previews run pretty well, but when you refresh or switch between performer pages, the live feed might start getting laggy. The same thing might happen if you click off-screen by accident, you'll have to deal with blue ball inducing delays. Fortunately, this problem doesn't seem to happen with archived videos.
Summing Flirt4Free Up
Between all the kinds of ladies, you'll see on this site and all of the dirty stuff they'll do for you one camera, this site stands out. With just a free account and a few hundred credits, you'll have plenty of content to enjoy. And with VIP, you'll have more spank streams and archived vids than you'll know what to do with…although I think you'll figure it out.There are some screwy structural issues with F4F when it comes to web design. Plus, you'll have to put up a good deal of cash for an extension inducing extended private cam show. However, that's not too much of a problem if you've got some coin.
Overall, I rank Flirt4Free (often misspelled as "flirt for free" and "cams 4 free") as one of the best cam sites on the web and award it five out of five hands.