VRBangers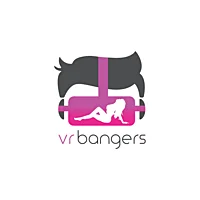 VR Bangers! The next generation of virtual reality is some pretty exciting shit, huh? Drop a few bills, slap on a helmet and you can fight monsters, fly spaceships, climb mountains, or go on educational adventures around the world. Of course, you see everyone swinging their controllers, blindfolded to reality, and you have a completely different thought: I wonder what it's like to masturbate in that thing. VRBangers aims to give you just that opportunity.
Premium Porn Delivered Straight to Your Eyeballs
Everyone who just bought an Oculus Quest thinks they're a high-tech, early adopter of this whole VR fad. Pat yourself on the back, grandpa, you did well. You're on the cutting edge and can totally brag to your elderly neighbors. VRBangers has actually been around since 2015, though, which puts them a few years ahead of nearly everyone else in this game. This is an OG VR XXX site, with the benefits that entail.Today's virtual reality sex movies are the culmination of centuries of dreams and the hard work of men determined to bang women more attractive than their own wives, at least in their fantasies. We've come a long way since multi-angle DVD porn, silicone vaginas, and whatever they used to flog the donkey a century ago. I'm no historian, but I'm pretty sure it was a rock or a stick or something. Technology has given us so much, so fast.
Of course, there's a steep learning curve. Those VR porn sites popping up right now, trying to get in on the next big thing, all have some catching up to do. A few years of experience have taught VRBangers enough to earn them the 2018 XBIZ Award for Best Virtual Reality Sex Scene and the 2019 AVN Award for Best Virtual Reality Scene.
Another major advantage of VRBangers getting in on the ground floor? They've worked with and continue to film fuck flicks with some of the top talents in the game. You don't have to log in to check out their Pornstars page and see who's on the menu. They've got top-shelf sluts like Valentina Nappi, Riley Reid, and Mia Malkova lining the screen.
The whole presentation is more than enticing enough to lead me to the Join page. Before I could even check out the prices, a photo of Abella Danger popped up with a special offer to get access for $0.50 USD per day. As you may be aware, Abella has one of the most scrumptious White girl booties in the industry right now. A peek is worth more than that, even in plain ol' 2D like the savages beat off to.
Cheaper Than an Escort, and Cleaner
I want to make a prediction. Virtual reality headsets are finally going to become a household item in the next couple of years. The industry is going to act like it's all thanks to kids playing Beat Saber and housewives watching Netflix in a virtual theater instead of their sad, lonely bedrooms. We'll know the truth: it will all be thanks to perverts and pornography.It's a damn good time to sign up for a premium VR site. You usually expect to pay more for the newest types of media, but the smut peddlers are eager to make you a longtime consumer. Even if you don't get that deal I mentioned above, the standard membership rate for VRBangers is only 25 USD a month. That's a few bucks less than porn sites that make you watch anal hardcore films on a flat-screen like a homeless person. I know that HTC Vive wasn't a cheap investment, but this will help you make up the difference.
As with any decent paysite, you get a lower rate with a longer membership. If you really want to go all-in on the 3D humping, they offer a bundle that also includes their tranny site and access to a VR sex game called SinVR.
This ain't no rinky-dink bullshit operation, so they've got formats compatible with all the major devices. Oculus, Gear VR, Windows MR, and PSVR are all good to go, and it'll even work with Android and iOS gadgets if you're old-school like that. They've got an app if you're straddling that VR/phone line.
Banging Out the VR Bang Flicks
VRBangers puts out a couple of new 3D pornos every week, which is about what you want from any paysite. The default view on the main page shows the newest first. Some of the scenes are admittedly a little bit short for a premium site; the newest clip, The Homeowner, clocks in at just around 14 minutes. On the other hand, I see a bunch on the front page that are over half an hour long. It's a minimal trade-off and seems fair considering this is some futuristic shit.I do wish the preview images on the main screen told you a little bit more about the flicks behind the thumbnails. I know that Airvrb stars Tiffany Watson, but I don't know what she does in the movie besides suck on a dildo and show her pussy. Does she have a costar smashing her from behind or take a messy facial? There are no tags listed on the front page, so I have to click through to find out the scene includes Tiffany and her Natural Tits and Shaved Pussy riding Cowgirl and taking Big Dick down her Deep Throat.
There's a baked-in player on VRBangers.com, but you're going to want to download the movies. The 3D 180 6K format of this movie is nearly 7 gigs. I know this puts a little damper on your impromptu masturbation sessions, but you need to plan ahead for the optimal VR wank.
Pick A Scene and Stick Yourself In It
With nearly 300 movies, this is already one of the biggest collections of premium virtual reality fucking in the world. Where the hell do I even start?VRBangers's search features are built into the top of the main page. Enter your terms in the bar, or check off a few categories from the dropdown. How do you want this evening? Choose from all the porn classics like Anal, Asian, and Ebony, or go modern with Cosplay. I guess I should have expected a Hobbit porn parody on a site aimed at perverted tech geeks.
I checked off Teen and Brunettes and then chose Sitting from the Positions dropdown. Most VR sex sites don't have that latter menu, but it's pretty fucking smart. The whole genre has these weird camera angle jumps that take some getting used to. It's jarring when you finally convince yourself you're banging a porn star riding your cock while you're on your back, and then you're suddenly standing with a dick in her face. The Positions dropdown isn't perfect, because porn scenes naturally will change angles, but it is a nice way to meet in the middle. I'm sitting, so I want to watch a sitting scene right now.
Wouldn't you know it? Tutti Frutti with Casse Del Isla was uploaded just a few days ago. It's an hour-long and nearly 13 gigs, so tell your boss you have really bad diarrhea. You're going to be in the restroom all day, and you need that plastic space helmet for medical reasons.
Living the Porn Dream, At Least in VR
The movie opens with an outdoor chat as you meet your gorgeous neighbor Cassie for the first time. Introductions in VR porn scenes are a little more interesting than the same in traditional flicks. Especially with the binaural audio, it feels like you're really there. My eyes started undressing her immediately.I'm not really a patient dude, though, so I skipped ahead a few minutes to the blowjob. The actor's dick is a downgrade for me, but it'll make you nerds feel like a monster. You can almost feel Cassie's very talented tongue as she works the shaft. A few minutes later and she's already taking off her panties to get it from behind.
It's hard to express my enthusiasm for VRBangers in words, but I know the other subway passengers knew exactly how much I enjoyed it. This is easily one of your best choices if you're trying out virtual reality self-gratification for the first time, or if you just haven't been impressed with some of the other sites out there. These guys are putting out some of the best content with the best talent in the business, and their collection size is nothing to scoff at.